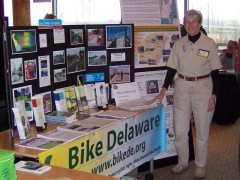 By Carol Ireland, Bike Delaware Secretary –
Carol Ireland represented Bike Delaware at the Alternative Transportation Workshop, held at the Delaware Tech Wilmington campus on April 4. Delaware Tech provided a free lunch to encourage both students and staff, thirty-five in total, to participate in the workshop and listen to presentations on DART, the RideShare program and Bike Delaware.
Posters and brochures were available for students to browse as they changed classes or took a break for lunch. Several students and staff expressed interest in  Bike Delaware initiatives. One is looking for a mentor to help her work out a route so she can ride her bike from home (in New Castle) to the Wilmington Delaware Tech campus. Contact carol@bikede.org if you'd like to help her.
At the workshop, Carol learned about two DART programs that could help bicyclists. Besides RideShare, DART also promotes BikeShare — bicyclists can sign up and look for fellow cyclists interested in bike commuting together, to a similar destination. DART uses the same program to help people carpool to major events (e.g. a Phillies game). This would work for the hundreds of cyclists who drive to Dover for the MS Bike to the Bay.
Depending on volunteer capacity, Bike Delaware can table your event. If you or someone you know has a similar opportunity, email us today at: pr@bikede.org