By CAROL IRELAND, WCBC President –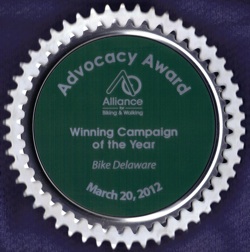 At the April White Clay Bicycle Club Executive Committee meeting, James Wilson, Bike DE Executive Director presented WCBC with the Advocacy Award given to Bike Delaware at the National Bike Summit.
In doing the presentation, James thanked WCBC for its many years of generous support. Without that financial support, Bike Delaware would not have had the advocacy accomplishments in 2011 that led to the award.
The Alliance for Biking and Walking presented the award to Bike Delaware for its "Winning Campaign of the Year", something that all Delaware bicycle advocates can be enormously proud of.
RELATED:
• Walkable, Bikeable Delaware Wins National Recognition