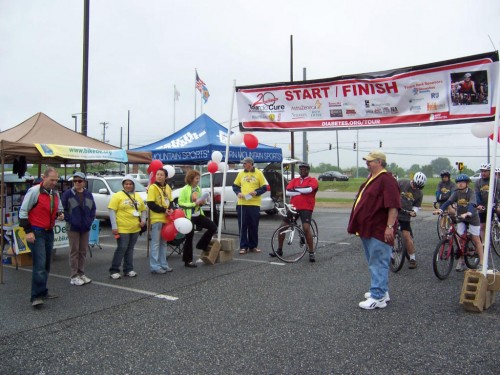 Tour de Cure is back!
The Tour de Cure, a ride and a signature American Diabetes event, is slated for May 12th 2012 (Save the Date!). The Tour is a ride, not a race, with routes designed for everyone from the occasional rider to the experienced cyclist. Whether you ride 10 miles or 64 miles, you will travel a route supported from start to finish with rest stops, food to fuel the journey and fans to cheer you on!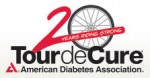 Last year, more than 50,000 cyclists in 80 Tour events raised over $20 million to support the mission of the ADA: to prevent and cure diabetes and to improve the lives of all people affected by diabetes.
The Delaware ride is organized by volunteers from the Delaware Cycling Community & the American Diabetes Association.
The annual event will kick off its 2012 Ride on May 12th 2012 At 100 White Clay Center Dive Newark, DE 19720  (MAP)
To register for the ride, visit www.Diabetes.org/detour
Registration opens one hour prior to each ride start.  Ride start times: 64 Mile Ride – Starts at 8:00 AM.   35 Mile Ride – starts at 9:00 AM. 10 Mile Ride – starts 10:00 AM.  Event lunch and entertainment will begin at 12:00. Event concludes at 4:00 PM.

Route Descriptions:

The Newark DE Tour de Cure begins at White Clay Corporate Center, located at 100 White Clay Center Drive Newark DE 19720.  Our three routes are designed to appeal to all skill levels. Routes include:
10 Mile Family Fun Ride Our family-friendly Fun Ride is accessible to all ages and fitness levels (Lin Dist: 9.4 mi; Climb Elev: 217.0 ft. Climb Dist: 4.2 Miles)
30 Mile Ride Our 30 Mile Ride offers a moderate challenge while being safe and scenic.  Frequent rest stops and plenty of SAG patrols make this ride a great choice for the beginner to intermediate cyclist. (Lin Dist: 29.5 mi.; Climb Elev: 1,305.8 ft. Climb Dist: 14.1)
63 Mile Metric Century Our 63 Mile Metric Century – the perfect choice for the intermediate to advanced cyclist.  Full route support ensures a safe ride from start to finish.  (Lin Dist: 62.6 mi.; Climb Elev: 4,187.3 ft. Climb Dist: 30.7)
To find out more or to volunteer for the Day of Event activities contact the local American Diabetes Association Offices at 100 West 10th Street, Suite 1002, Wilmington, DE 19801.  Questions or ride details contact Carl Colantuono at 302-656-0030 ext 4651.  Email CColantuono@diabetes.org.
To register for the ride visit www.Diabetes.org/detour