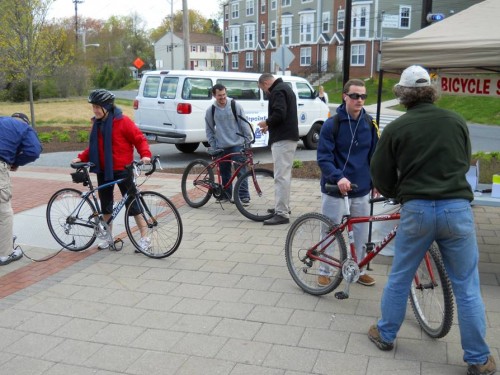 By Heather Dunigan, WILMAPCO –
"Oh my God, I can already feel the difference," exclaimed one cyclist after getting her tires inflated and chain lubed. Another happy customer said, "I can't wait until night time," as he got new bicycle lights installed.
Completing the second year of the Newark Bicycle Safety Checkpoint Program, DelDOT sponsored two spring events on April 4 and 12 in partnership with the Newark Bicycle Committee, City of Newark, University of Delaware Public Safety and WILMAPCO.
Over the two days, our "Bicycle Pit Crew" installed approximately 65 bicycle lights, gave away five helmets, inflated dozens of tires and made a variety minor tune-ups. Event organizers also emphasized safe bicycling behavior to Checkpoint visitors, particularly the importance of riding in the direction of traffic.
Poster's notes:  The program has produced visible results. We are hearing that an increased number of bicyclists are now using lights and helmets, and "Bike Salmon" are on the decline.
A huge tip of the helmet to everyone involved, for taking time out of their busy schedules to encourage more, and safe (:-) bicycling in the City of Newark!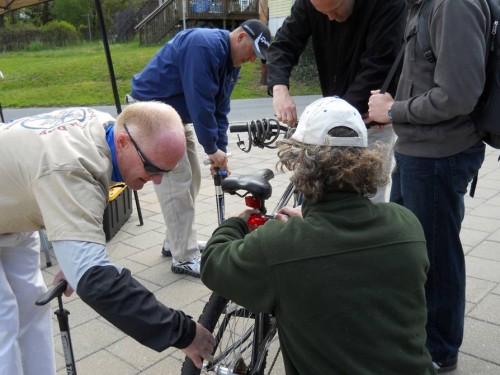 L-R: UD's Mark Deshon, and DelDOT's Anthony Aglio and Dan LaCombe worked the checkpoint with little time to spare. Helping bicyclists ride safely and know their equipment is a hugely rewarding experience.