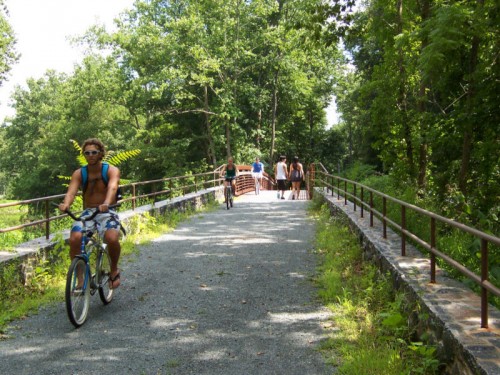 Additional funding for bicycling and walking is under consideration in the draft FY 2013 Delaware Bond Bill. To gauge public priorities and support for bicycling and walking, DelDOT and DNREC are holding a series of Public Meetings in partnership with WILMAPCO, Dover/Kent MPO and Sussex County on the First State Trails and Pathways Plan. Workshops will be held between 4-7 p.m:
Thursday, May 10th – Kent County– City of Dover, City Hall, 15 Loockerman Plz, Dover, DE 19901  (Map)
Monday, May 14th – New Castle County – WILMAPCO Office,  850 Library Ave, Newark, DE 19711  (Map)
Thursday, May 17th – Sussex County – Lewes City Hall, 114 East 3rd Street, Lewes, DE 19958  (Map)
Detail regarding planned projects will be available for review and comment, including the New Castle Industrial Track Greenway, City of New Castle Rt. 273 Pathway, Newark to Wilmington Commuter Pathway, Pomeroy Trail, C & D Canal Trail, Southern New Castle County Middletown to Canal Path, and Wilmington Brandywine River to Christina River Path in New Castle County. Highlighted projects in Kent County include the Court Street Gateway Pathway and Legislative Hall Pathway.  In Sussex County, highlights include the Georgetown to Lewes Rail with Trail Pathway, Junction & Breakwater Extension, and Fred Hudson Road Pathway.
Stay tuned for more details, including a Plan web site to be rolled out later this month!