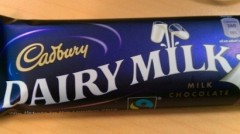 Heathhall, Scotland — A remorseful thief has returned a stolen bicycle to its owner along with an apology note and a chocolate bar near Dumfries.
The purple ladies mountain bike was stolen from a communal hallway at Herries Court in Heathhall.
It was taken sometime between 11.35pm on Sunday and 2.35pm the next day.
The bicycle was returned to the same spot at around 11.50pm on Monday night, along with a note of apology and a sweet treat.  [More from STV …]
—
Poster's note:  This is the exception; having a bike stolen is one of the most disheartening experiences one can imagine, since it's usually gone for good. Visit our series "How to Not Get Your Bike Stolen" | Part 1 | Part 2 |