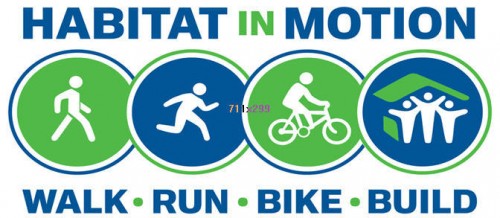 For the past 4 years, Habitat for Humanity has hosted "Bike to Build" a 15, 25 and 50 mile cycling event which took bikers through Wilmington, the Northern Delaware Greenways and through Hockessin and Yorklyn. This year, Habitat has renamed the event, "Habitat in Motion", added a 5k run/walk component as well as relocated the start-finish line to Bellevue State Park.
The event takes place on Saturday, June 23, with the 50 mile cyclists starting at 8 a.m. The 50 mile route, quickly becoming known as one of Delaware's more challenging rides, sends participants through the steep inclines of Yorklyn/Hockessin. The riders will be accompanied by volunteers from Habitat, Henry's Bicycles, Garrison's Cyclery and The Bike Boutique every pedal of the way, accompanied by police-controlled intersections.
If you'd like to run, ride or walk, visit www.habitatinmotion.org to register for Habitat in Motion. For questions, call Donna Fierro at 302-652-0365 x113.