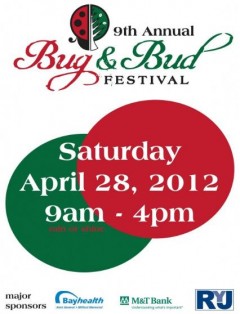 By Chaises Yaiser —  On April 28, 8:00 am – 4:00 pm, Milford, DE will celebrate its "Bud & Bug Festival".  This year they are including a "Bicycle Milford Tour" to the Prime Hook National Wildlife Refuge. The route is circuitous (no need for a map) and takes you through pristine areas of farms, fields, streams, wetlands and beaches. It is approximately 20-25 miles, 2-2.5hrs. (+/- beach time).
News of the Delaware Bicycle Council's visit on June 14th, has generated considerable interest in Milford – home of Vintage Metals, Delaware's first and only home grown bicycle parking manufacturer. These include the Lions Club, Parks and Recreation Commission, the Milford Art League and Gallery, and a local Bicycle Shop owner Mr. Jack Sheaffer. Jack has expressed his concerns regarding the lack of bicycle access, safety, and security to such public places as the Boys and Girls Clubs, Public/Private Schools, and Recreational Areas.
Persons doing this tour must wear a properly fitted and fastened bicycle helmet; bring extra water; sunscreen; camera/film, etc. Note: No Lifeguard on duty at beaches. There is public access to the beach via named streets (ie., Delaware Ave., North; Delaware Ave., South; Maryland Ave.,etc). Good place to lunch, snack, wade, or just rest on the beach.
ROUTE of the BIKE MILFORD TOUR:
From Route 113 (n/s) or Route 1 (n/s), pick up Route 36 East, Cedar Beach Road in Milford. Continue on route 36 to Slaughter Beach, bear right onto Slaughter Beach Road south (s/w) to Argos Corner. Cross over Argos Corner Road and Route 1 to Pine Haven Road. Continue on Pine Haven Road to Route 30 North, Cedar Creek Road. Turn right on Cedar Creek Road to Wilkins Road. Turn left on Wilkins Road (w) to Elks Lodge Road. Turn right  onto Elks Lodge Road (n/w) to Marshall Street (n). Continue on Marshall Street to Southeast (s/e) Front Street, (Route 36). Turn left on SE Front Street (w) to South Walnut Street. Turn left on South Walnut, back to Route 36 West.Turn left on SE Front Street (w) to South Walnut Street. Turn left on South Walnut, back to Route 36 West.
For further information, including start location, contact Chaises Yaiser: cjyaiser@gmail.com. Area map in pdf HERE.