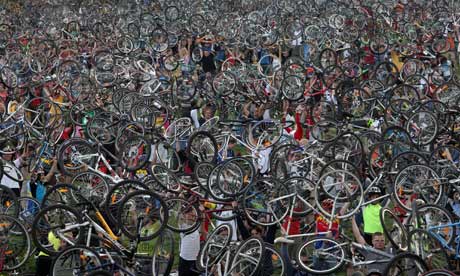 Wikipedia — Critical Mass is a cycling event typically held on the last Friday of every month in over 300 cities around the world.[1] The ride was originally founded in 1992 in San Francisco.[2] The purpose of Critical Mass is not usually formalized beyond the direct action of meeting at a set location and time and traveling as a group through city or town streets on bikes. Some bigger scale events as in Budapest, Hungary, have an activist group formed around it, organizing the rides and communicating the desires and problems of the cyclists to the city council. [Continue reading …]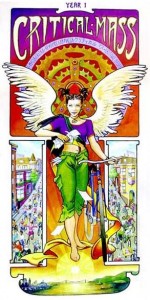 Come out and Join the Newark Bike Project for a Critical Mass ride this Friday, April 27th. Meet in the NBP parking lot at 4:45pm, we'll leave promptly at 5pm for a few laps around Newark.
The ride will follow the rules of the road pertaining to bicycles, and is not intended to impede or stir trouble with automobiles. But we will make our presence known, inspiring Newark toward a more bike-friendly future!
All abilities are welcome to participate!