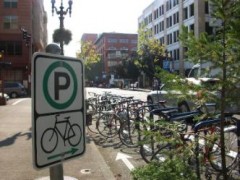 Bicycle modeshare at 4.7% for both cities –
By Angela Cunneely, Bike Delaware Membership director – Providing ample, convenient, comfortable and secure bicycle parking is an important part of serving those who currently use bicycles for transportation and encouraging future cyclists. Bicycle parking is an inexpensive and efficient means of increasing both public and private parking capacity for the city as a whole.
This is especially important and necessary in a city which has been designated as a "Bicycle Friendly City" by the League of American Bicyclists, a distinction which was awarded to Newark, DE in 2010.
On-Street Bicycle Parking provides many benefits where bicycle-use is high and growing. According to Portland's Bureau of Transportation —
*  Businesses: Corrals provide a 10 to 1 customer to parking space ratio and advertise "bike-friendliness."  They also improve the outdoor café seating environment by removing locked bicycles from the sidewalk.
*  Pedestrians: Corrals clear the sidewalks and serve as de facto curb extensions.
*  People on bicycles: Corrals increase the visibility of bicycling.
*  Motor vehicle drivers: Corrals improve visibility at intersections by eliminating the opportunity for larger vehicles to park at street corners.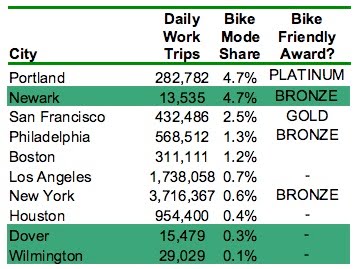 Above:  Newark matches Portland with a robust 4.7% bicycle modeshare. This number could significantly increase for Newark if they applied equal level of service for bicyclists. The potential to reduce automobile traffic is real, when considering how many visitors live within easy walking or biking distance to the downtown.
From an economic and quality of life standpoint, it is unfortunate that Newark City Council is willing to spend millions on additional car parking, while bike parking is viewed as secondary concern. $3.4M will be spent to entice an additional 113 cars to an already congested downtown, totaling about $30,000 for each new parking space. And more is planned after that.
Recently, one of our members wrote in, saying "If Portland can have 80 bike corrals, why can't Newark have 1? Newark is missing the boat because more and more cities are implementing on-street bike parking. It is a mind set. Once the first is in place, other businesses notice it and want a rack of their own. Newark finds it easy to shoot the concept down, because they had one failure – this because it wasn't implemented properly."
A well known merchant on Main Street recently expressed interest in a bike corral replacing one car parking space directly in front of their restaurant. We approached the City's Planning Department, where the idea was met with firm disapproval. "Whatever possibilities remain for off-street bike parking must be explored first."
Stay tuned for more on this issue in the coming weeks, as we look back on the history of bike parking in Newark.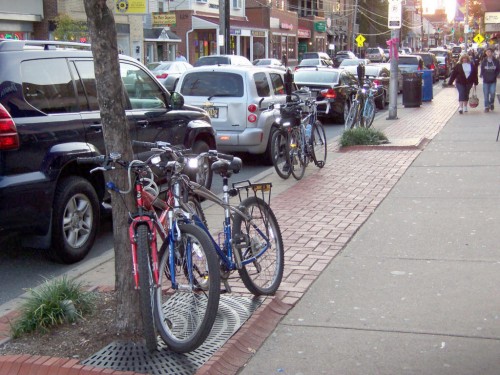 Above:  Two-wheel visitors forage for bike parking on Main Street. This includes trees, parking meters, lamp posts, whatever can be found to put a lock through. Along this stretch, the number of bikes outnumber those of parked cars by 2 to 1, yet require only a small fraction of the space.