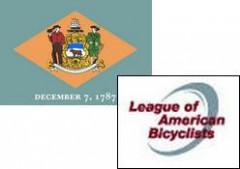 By Matt Wempe
League State and Local Advocacy Coordinator
Featured in the League of American Bicyclists Blog –
One good thing to come out of the federal transportation bill is the incredible impact grassroots advocacy has had on our federal legislators. The National Bike Summit was the culmination of months of hard work, and it paid off big time (notice how the House didn't even try to eliminate bike programs in their recent extension vote). State advocates are now holding similar events in capitols across the country (Georgia and Colorado are two recent examples). Each of these events has been tailored to the needs of each state as they keep bicycling on the forefront of legislator's thoughts.
Bike Delaware recently hosted the Walkable, Bikeable Delaware event focusing on the Governor's proposal to spend $13 million on bicycle and pedestrian projects in 2013 (here are some of his ideas). Governor Markell has proposed this funding as part of his 2013 budget to make Delaware the "most walkable and bikeable state in the nation." But Bike Delaware and Gov. Markell are quick to note that democracy requires participation. After becoming governor in 2009, the Governor found out that he doesn't automatically get everything that he wants in the budget. The Governor appealed to attendees, if $13 million in state walking and biking funding is important, go speak to your state legislator. It sounds simple, but as James Wilson, executive director of Bike Delaware notes, "it's very powerful to have the chief executive make the pitch."  [Continue reading, with photos …]
RELATED:
• Delaware House and Senate Pass "Walkable, Bikeable Delaware"
• Delaware General Assembly Votes Millions For Bicycling
• Governor Markell proposes $13M to "make Delaware one of the most walkable and bikeable states in America."