Southern Delaware's Legislators Bike Ride
Wednesday, May 9 , 2012  – 7:45 AM –
Riverwalk Parking Lot, Milton, Delaware
Sussex County Leader – Jay Kirby
The Legislative Ride is an up to 75 mile round trip from Milton to Dover. There will be 4 locations to join this ride
(1) Milton departing 7:45 AM,
(2) Milford departing 8:55AM,
(3) Killens Pond pass by approximate 9:20 AM and
(4) Halls Restaurant in Wyoming departing approximate 11:20 AM.
The group should have about an hour to eat, socialize and regroup at Hall's.
If you can't join a ride but still want to join the fun and ride into Dover's Legislative Mall from your location and meet cyclist, both groups will be joining at the old ROADWAY terminal area at 12:00 PM to ride in unity together. At Legislative Mall at approx.. 12:30 PM riders will be met by students from South Dover Elementary where brief speeches will be conducted in honor of bicycling in our great state.
After the ceremonies in Dover the group will depart for Milton.
Cue Sheet & Flyer attached to this email:  LegisRide2012FlyerNCue.pdf
This is a "no-drop" ride; however the total group may split into several pace groups that will re-join throughout the ride.
 IN THE EVENT OR RAIN THE RIDE MAY BE CANCELLED.
If you plan on joining the ride text, call or email Jay:
302-258-7374    –  jaybikes4fun@gmail.com.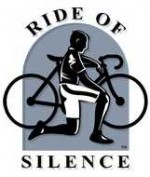 RIDE OF SILENCE  – MAY 16, 2012, 7:00 PM
Sussex Cyclists to host seventh annual local ride
Susssex Cyclists, a nonprofit cycling organization promoting cycling safety and rides throughout Sussex County, will host its Eighth Annual Ride of Silence (ROS) on Wednesday, May 16. The ride will begin in the Tile Mart parking lot behind the WaWa on Southbound Route One at 7:00 p.m. Cyclists of all abilities are invited to ride this silent cycling procession of less than 10 miles and no faster than 12 mph.
Sussex Cyclists Ride of Silence organizer Michael Tyler said that rides begin in North America at 7:00 p.m. EDST and roll across the globe. "Cyclists will take to the roads in a silent procession to honor cyclists who have been killed or injured while cycling on public roadways. Although cyclists have a legal right to share the road with motorists, the motoring public often isn't aware of these rights, and sometimes not aware of the cyclists themselves," he said.
The Sussex Cyclists ROS will proceed south on Route One from the Tile Mart lot to the Lewes-Rehoboth Canal Bridge where it will then head north returning to the starting point in less than an hour.
Ride founder and avid cyclist Chris Phelan organized the first the Ride of Silence 10 years ago in Dallas, Texas when endurance rider Larry Schwartz was killed when he was hit by the mirror of a passing bus. That first ride drew 1,000 cyclists through word of mouth and email communication during a period of only 10 days. There was no registration and no sign-up fee. Local media reported the ride to be incredibly moving as these cyclists rode in silence, occasionally wiping away a tear or patting a friend on the back.
In 2011 the Ride of Silence took place in all 50 states and the District of Columbia and more than 300 locations worldwide including Canada and 24 countries and on all seven continents. The ROS is a free ride that asks its cyclists to ride no faster than 12 mph, wear helmets, follow the rules of the road while remaining silent during the ride. There are no sponsors and no registration fees. The ride, which is held during National Bike Month, aims to promote "Share the Road" and raise the awareness of motorists, police and city officials that cyclists have a legal right to ride on public roadways. The ride is also a chance to show respect for and honor the lives of those who have been killed or injured while cycling.
Sussex Cyclists ROS ride organizer, Bobbi Dunham, said that riders should report to the Tile Mart parking lot around 6:30 for a pre-ride briefing, photos and to sign a ride waiver. She said that riders must wear helmets and recommends that bikes have head and tail lights. For information go to the Sussex Cyclists web site: sussexcyclists.org or contact Bobbi Dunham at btdunham@comcast.net.
You can click on the "Ride of Silence" logo for more information on the national program.   (http://www.rideofsilence.org )