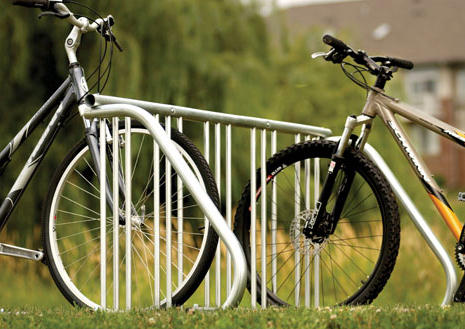 It is time for bike parking manufacturers to wake up, and STOP selling racks that can easily damage bicycles, even rendering them un-ridable by simply tipping them over. Most folks who buy these racks are non-cyclists who are fulfilling a requirement for bike parking, and lack the experience to know better. Saris, whose rack is pictured above looking all wonderful, is a well respected company out of Madison Wisconsin. They are a major supplier throughout the U.S., yet even they keep selling this epic failure.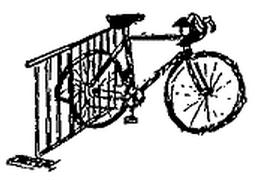 This, according to "Listening to Bike Lanes: Moving Beyond the Feud" — "Grid-style bike parking, also known as "grid" or schoolyard racks, are the kind famous for the bicycle domino effect. You stick your front wheel between vertical rods, you start to walk away, the wheel slips, you hear a clatter as each bike falls against the next, and, thanks to those vertical rods, some of the bikes' wheels aren't as well aligned as they were before. You try to ride off, and come to find the wheel is bent and stopping against the brake pads."
Enough with the wheelbender racks, already. We need to choose designs that provide at least 2 touch points on the frame of the bicycle. Cities in Delaware – especially our bike share mode leader, Newark – should be stipulating this requirement in their bike parking ordinances.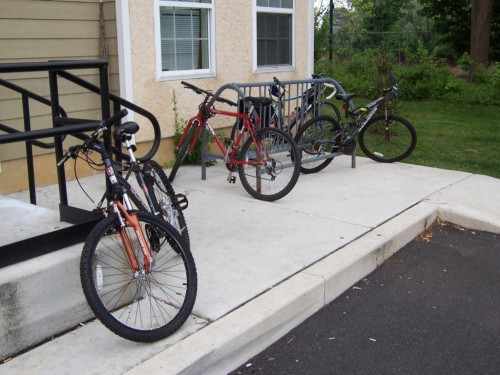 Above:  The scene at Ivy Hill Apartments in Newark. It's common knowledge not to use the rack in the way it was intended, as these bicyclists clearly demonstrate.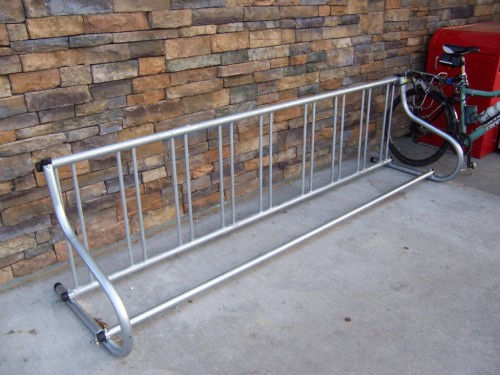 Above:  A wheelbender installed at the brand new WaWa in Newark, as required under the city's 70+ car parking space ordinance. Note the bike parked to the side, locked to the end bar.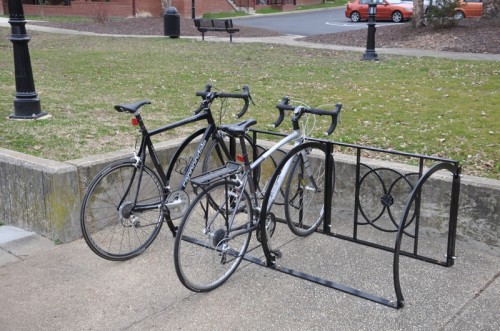 The clear alternative above is from Vintage Metals out of Milford, Delaware. Bikes are locked safe and secure against 2 touch points to the frame, and stand no chance of falling over if locked securely through the frame and cross member.