Bike Delaware's Event's Calendar is growing, and fast becoming Delaware's clearinghouse when it comes to events and rides that benefit advocacy. If you haven't visited yet, please do so HERE (or click on the image below).
The calendar is intuitively obvious and easy to use, and active participation among various advocates and event directors will help ensure it stays up to date with the latest information. Otherwise, unless we are notified, your event's inclusion is not guaranteed to make it.
At this time, we are open to having additional authors from around the state who are willing to submit events on behalf of their own organization or region. As always, downstate volunteers would be especially helpful. Please email Carol Ireland today if you are interested, as a user name and password is required: carol@bikede.org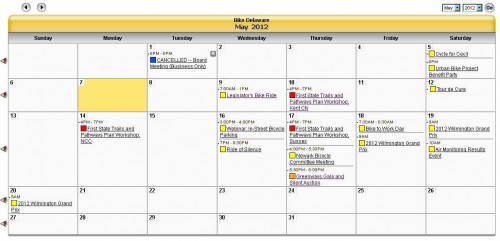 Also vist the Delaware Bicycle Council's Events Calendar and Bike Month home page.