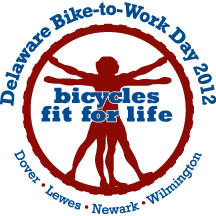 On Monday evening, April 23, at the Newark City Council meeting, City Secretary Patricia Fogg read a proclamation on behalf of Newark Mayor Vance Funk III, declaring May 18th Bike-to-Work Day in Newark. Acting Newark Bicycle Committee Chair Mike Fortner was present, and committee member Frank Warnock (left) stood proudly beside Mayor Funk to accept the proclamation.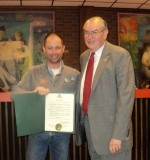 Part of National Bike Month (May), a celebration of National Bike-to-Work Day, will be held on Friday, May 18th at the corner of Delaware Ave and South College Ave on the University of Delaware campus from 7:30-8:00 a.m.
The event will be a time for commuters to get some exercise while giving the atmosphere and their budgets a break. Light refreshments will be served, and it'll be a great opportunity to meet other bicycle commuters while showing support for bicycling in Newark and in Delaware. Planned speakers include UD Provost Tom Apple, Senator Tom Carper, Newark Mayor Vance Funk, and Gov. Jack Markell.
This is an official League of American Bicyclists event organized by the Newark Bicycle Committee. Event partners include University of Delaware and the City of Newark. Sponsors (so far) include WILMAPCO, DelDOT, Bike Delaware, Delaware Bike Council, and Home Grown Cafe'.
For more information, contact Newark Bicycle Committee representative Mark Deshon (deshon@udel.edu).