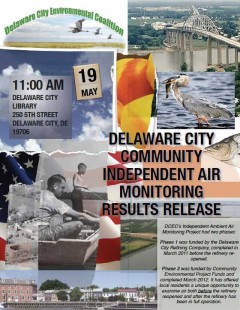 Bicyclists, runners, and breathers in general – please stop by for this major announcement regarding air quality and safety since the re-opening of Delaware City's refinery.
Saturday, May 19, 11am at the Delaware City Library (map).
Delaware City Environmental Coalition's Independent Ambient Air Monitoring Project had two phases:
Phase 1 was funded by the Delaware City Refining Company, completed in March 2011 before the refinery reopened.
Phase 2 was funded by Community Environmental Project Funds and completed March 2012.
It has offered local residents a unique opportunity to examine air both before the refinery reopened and after the refinery has been in full operation. Now, your presence is requested as they release the results.
PLEASE NOTE: Due to some issues with the Delaware City Refinery, the time of the air monitoring results event has been changed to 11 am and relocated to the Del City Library. Our events calendar has been updated.