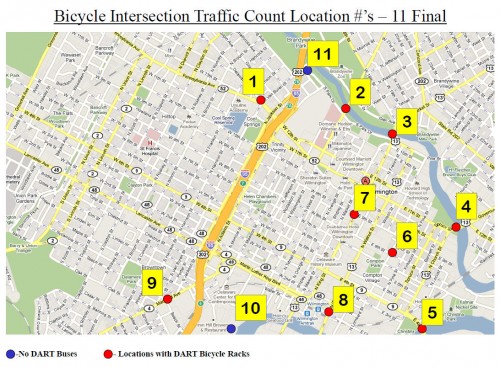 By David Dooley, DART Transit — As part of May's focus on Bike Month and Bicycling, the Wilmington Bicycle Advisory Committee is looking for volunteers to conduct DART's 3rd Annual Bicycle Count in the City of Wilmington.
There are 11 selected locations (refer to above Map). Therefore, we need a minimum of 11 volunteers, but would welcome a "buddy-buddy" system if you have someone in mind.

WHEN:  Thursday May 17th – Next Week!
TIME: 7:30 a.m. – 8:30 a.m.
WHERE:  11 intersections within the City of Wilmington (reference map above).
Please contact David Dooley if you can volunteer, and state your preferred location:  david.dooley@state.de.us