Americans Support Federal Funding For Biking and Walking 
Senators and Representatives are meeting now to create a final transportation bill, and we need your help to protect the funds that the Senate designated for local biking and walking programs.
National advocates are working to preserve the Cardin-Cochran agreement. This agreement was part of the Senate bill passed two months ago with bipartisan support. It allows local governments and school systems to access much-needed funds to make bicycling and walking safer and more accessible, in response to local needs. The agreement does not increase the overall size of the transportation bill, it simply maintains a funding stream that local governments have used for over 20 years to provide their citizens with a variety of safe transportation options.
Please thank our members of Congress for their support of bike/ped funding in the Transportation Bill. You can easily do so on-line HERE with this interactive letter. Since Delaware's top 3 – Rep. Carney, Sen. Carper, and Coons – stand solidly behind us, the letter should be modified as less of an ask and more as a THANKS.
Funding for bicycling and walking has very popular support – a recent Princeton survey found that 83 percent of Americans support federal funds for sidewalks and bike lanes.
Please act now. Though they support us, they still need to hear from us, their constituents. Fill in your zip code, modify the letter into more of a thank you as recommended above, add your contact info and simply hit "Send Message".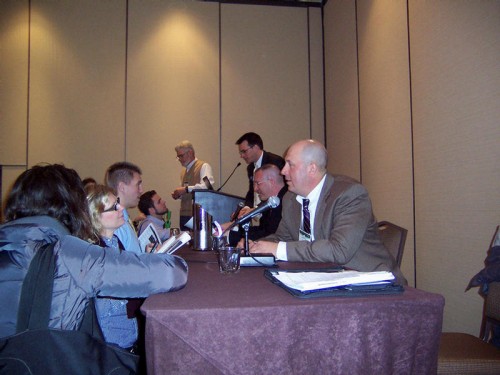 Anthony Aglio, DelaDOT's Bicycling Coordinator, taking questions during last year's National Bike Summit.