By Katy Bowman — Mark Deshon, 56, of Newark, often takes leisurely bike rides along local trails on the weekends for fun. But his bike through the city every Monday through Friday is strictly business.
Every weekday, as long as the weather permits, Deshon – an assistant policy scientist who has worked at the University of Delaware for 32 years – straps a helmet on his head and a backpack on his shoulders, and hops on his Trek 1200 to pedal 2.5 miles south on Route 273 to his office in downtown Newark.
"I do it every day that it's not pouring rain like it was this morning," he said on Tuesday. (He caught a ride on the campus shuttle in the pouring rain that morning.) "I've basically biked to work every day for 30 years. I've never purchased a UD parking permit all these years."
When he gets to work, he feels awake and ready to take on the day – and his wallet is better off without the gas payments, he said.
Deshon is a member of the Newark Bicycle Committee, which meets at 4 p.m. on the third Thursday of every month at WILMAPCO office on Library Avenue. He said the group is open to anyone who has an interest in "furthering biking in Newark," and could stand to benefit from more input from Newark residents.  [Continue reading …]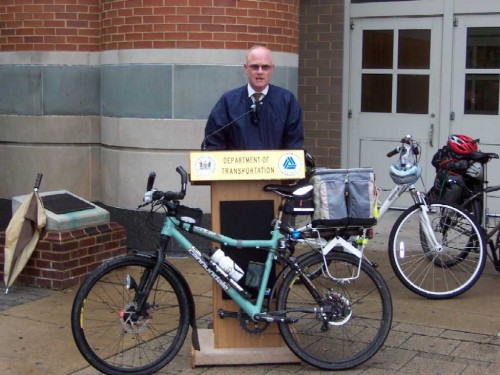 Mark Deshon addresses the crowd at last year's soggy Bike to Work Day in Newark. The weather this year looks promising.