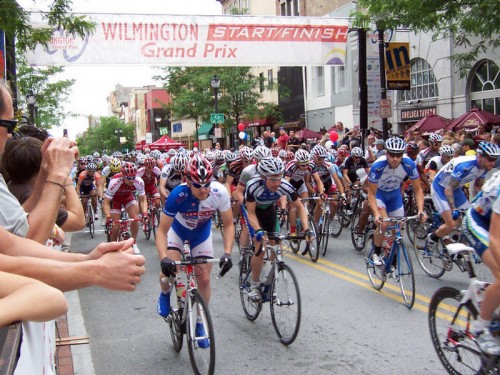 Wilmington Grand Prix generates big bucks for Delaware economy –
From Newsworks (WHYY) — The Wilmington Grand Prix is expected to add nearly one million dollars to the local economy.
Thousands of spectators are expected to descend on the city this weekend to watch hundreds of cyclists race through the streets of downtown Wilmington as part of the annual Grand Prix.  Organizers are hoping the weather forecast will translate into a big turnout.  "It's going to be a beautiful weekend," says Carrie Gray, managing director for the Wilmington Renaissance Corporation.
The festivities start at 4 p.m. Friday with the Monkey Hill Time Trial in Brandywine Park where 300 riders will race against the clock on the cobblestones of Monkey Hill.  Racing starts in downtown Wilmington on Saturday at 9 a.m. with races in different divisions for men and women leading up to the 35 mile Grand Prix race at 3:45 p.m.  Last year, all racing fields were full with 450 riders.  This year's fields are near capacity.
Add up all the money spent by competitors and spectators on things like hotels and restaurants in Wilmington, the Wilmington-area economy could see a million dollar boost.  Last year's event brought in an estimated $970,000.  "That impact number is in the city mostly, but it does reach out into the county some in terms of hotel rooms and things like that," says Gray.  "Obviously, we're really thrilled with that number and hoping that it will grow again this year." [Continue reading …]