By Cindy Small — Cyclists, get in gear today and register for the 26th Annual Amish Country Bike Tour, set for Saturday, September 8, 2012.  For the best savings, register online by June 14 at only $35 per adult.
You can join more than 1,750 cyclists from all over the country who join together every fall for one of the most-loved cycling events on the East Coast.
The bike tour, suited for all ages and abilities, includes 15, 25, 50, 62 and 100-mile loops through the flatlands of Delaware's Amish farmlands.  Each loop starts and stops at the beautiful Legislative Mall outdoor historic park.  Plenty of free parking is nearby.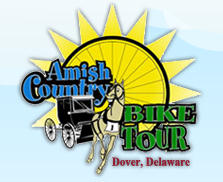 Rest stops include the famous Amish Schoolhouse where members of the Amish community serve locally-baked pies from Byler's Country Store and locally-baked cookies from Redner's Markets.  Several additional food stops will be included, featuring healthy snacks, sandwiches and beverages.
Following the tour, cyclists will be treated to a catered barbecue meal of pulled pork or chicken and all the trimmings, and vegetarian meals will also be provided.  Proceeds from this year's bike tour will benefit the Central Delaware YMCA, the Amish Schoolhouse education program, three local participating churches and the Bike Tour fund.
Early-bird registration is June 14, which includes bike tour map, up to four food and rest stops including the famous pie stop, after-tour catered picnic lunch.  The following is a breakdown of rates and dates:
*  Now through June 14:  $35/adults; $15 ages 5-16; under 5, free;
*   June 15-July 31:  $50/adults; $20 ages 5-16; under 5, free;
*  August 1-September 8:  $60/adults; $25 for 5-16; under 5, free; and
*  Team Rate by August 1:  When 10 or more cyclists pre-register by August 1, cost is $25 per cyclist.
To register for the bike tour online, http://www.active.com/cycling/dover-de/amish-country-bike-tour-2012.  For those making a weekend of it, special lodging rates will be provided.  For more information, call 800-233-5368 or http://www.AmishCountryBikeTour.com.
Please friend the Amish Country Bike Tour on Facebook!