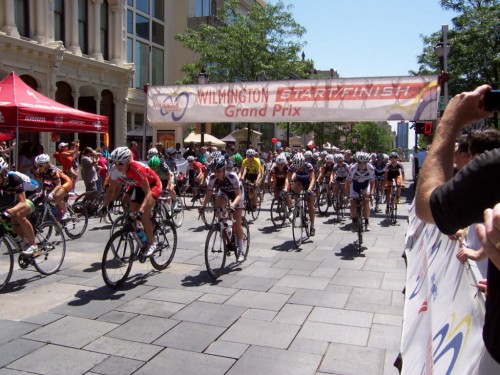 Wilmington News Journal — Lindsay Bayer and Demis Aleman used their breakaways differently to take the Women's Pro and Men's Pro races, respectively, in the seventh edition of the National Criterion Calendar's Wilmington Grand Prix on Saturday.
"It feels awesome to win. This is the biggest win I've had thus far in my career," said Bayer, of XO Communications presented by CISCO. "I've had a good season thus far, and it was another awesome race. Wilmington is a great course, and the crowds are really nice."
Bayer broke away from the field with three laps to go, and by the time riders reached the final lap, Bayer's lead was too large.
"I knew pretty early on in the race that the time to go would be with three laps to go," said Bayer, who finished the 25-mile race in 1:06:02. "I knew that would be just enough time for me to get away from the field, and cause people to be less willing to chase."  [Continue reading…]
Poster's Gallery: