Public Workshop: Cedar Lane Road Improvements from Marl Pit Road to Boyds Corner Road
Location: Cedar Lane Elementary School Multipurpose Room, 1259 Cedar Lane Road (map), Middletown.
Date and time: Monday, June 4, 2012, 4:00 PM to 7:00 PM
The Delaware Department of Transportation (DelDOT) is holding a Public Workshop to obtain comments for proposed improvements to Cedar Lane Road. The project limits will extend from Bridge 403, which is south of Marl Pit Road, to Boyds Corner Road. The workshop will be held on Monday, June 4, 2012 at Cedar Lane Elementary School, 1259 Cedar Lane Road in Middletown. The public is invited to attend any time between 4:00 pm and 7:00 pm.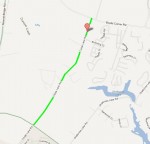 Attendees will be able to view and discuss the design alternatives for improvements along Cedar Lane Road, which include widening Cedar Lane Road to provide 12-foot travel lanes, 8-foot shoulders, drainage improvements, and a 10-foot multi-use path. In addition, intersection improvements are proposed to the intersection of Cedar Lane Road and Marl Pit Road and the two bridges between Marl Pit Road and Boyds Corner Road will be replaced.
This location is accessible to persons having disabilities. Any person having special needs or requiring special aid, such as an interpreter for the hearing impaired, is requested to contact DelDOT by phone or mail one week in advance.
Interested persons are invited to express their views in writing, giving reasons for support of or in opposition to, the proposed project. Comments will be received during the workshop or can be mailed to DelDOT Public Relations, P.O. Box 778, Dover, DE 19903. When applicable, we offer the opportunity to fill out a questionnaire online which will automatically get emailed to Public Relations.
For further information contact Public Relations at 1-800-652-5600 (in DE) or 302-760-2080 or write to the above address.
Poster's note:  Bike lanes are not mentioned in this project, despite 8′ shoulders being installed. This is probably because side-paths are included in the project. Bike Delaware firmly advocates that off-road facilities should never trump the need for on-road facilities or safety improvements. This is necessary for the more advanced class of cyclists who generally avoid using paths for pedestrian safety reasons. If you feel strongly about this issue, please attend and submit comments.