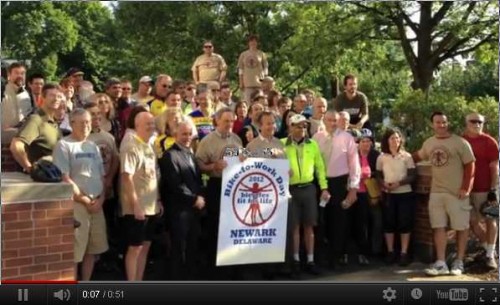 From UDaily — Spandex and bagels made for a power breakfast Friday morning. Outside Trabant University Center on the University of Delaware campus in Newark, approximately 50 cyclists gathered for morning munchies and encouraging words from some Delaware leaders in honor of National Bike to Work Day on May 18.
The event celebrated bicycle commuting, highlighting its benefits and raising awareness of its challenges.  Its greatest challenges are not the obvious cardiovascular ones; proponents say those are easily overcome. Rather, they are the policy challenges, the most weighty being funding concerns.
"It's not one of those things that is big in legislation so it takes grassroots efforts," said Mark Deshon, a UD employee and member of the Newark Bicycle Committee, which organized the event.
Those grassroots efforts brought Gov. Jack Markell, U.S. Sen. Tom Carper and Newark Mayor Vance Funk to the event as featured guests.  Each talked about his support of the bike commuting movement.  [Continue reading …]