Wilmington News Journal — It's great that Delaware is investing in trails and pathways, giving more Delawareans transportation and recreational opportunities. Studies prove that the social, economic and health benefits far outweigh the cost of these projects. Realizing this, Gov. Jack Markell and the Legislature are showing true leadership and vision for the environment and our children's future.
However, I am not clear if DelDOT is on board with this idea. In most places bicycle lanes are found, they end with a paint line or put the rider into the curb or off the road. Not only is this poor engineering, but it is difficult to believe any kind of guidelines are being followed, much less a complete streets policy.  [Continue reading…]
Posters note: Bike Delaware is working with DelDOT on a shared right turn-only lane design concept that will hopefully result in more continuous bike lanes. Our Bicycle Coordinator in DelDOT is also working to expand use of sharrows (shared lane markings) . Learn more.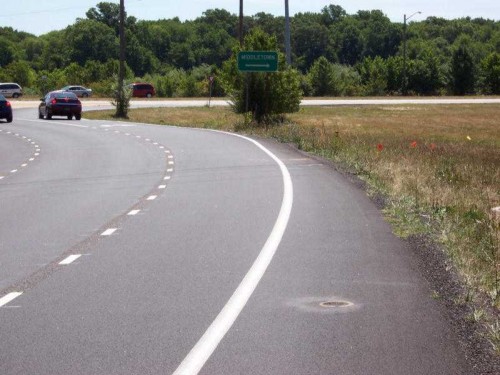 Above:  Glasgow Ave (Old Rt.896) approaching the intersection of Rt.896. A marked bike lane (marked as such) just prior to this photo would run a bicyclist off the road as solid white lines are not meant to be crossed. At the least, a broken line suggesting of a merge should be offered.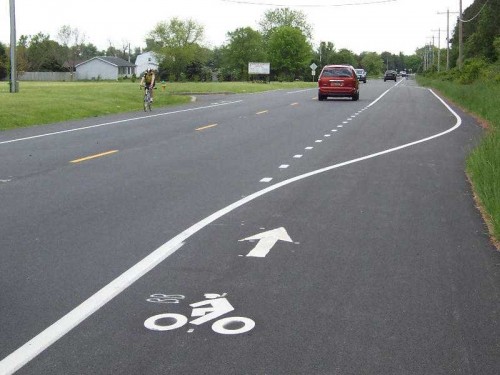 Another example, this one on Red Lion Road in Bear heading into a left turn bypass lane.
RELATED:
• What does the DelDOT "Complete Streets" policy mean?