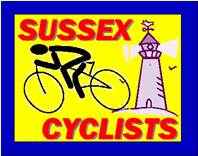 By Tony Pezone,
Former President of Sussex Cyclists:
"In the entire 9 years that I was President of Sussex Cyclists, we were at odds (with a few exceptions) with DelDOT; in that time we achieved very little in facilities (until the new Indian River Inlet bridge with wide bike lanes). Several years ago I wrote a letter to the local paper and said that the only way to get cycling in Delaware into the current century (it was probably the 20th) was to replace the upper management of DelDOT.  The DelDOT Public Relations manager at the time (he is long gone) was livid.
"But now, to my amazement, we have a Governor and a DelDOT Secretary who are actually taking the lead in cycling. They have proposed investing millions of dollars in cycling!  I never thought I would live to see it. The only way this doesn't happen is if our elected reps in Dover vote against the Governor's request in the next week or two. That's where we come in. I have already written to Senator Simpson and Rep. Schwartzkopf (my reps in Dover).  Have you contacted yours?"
Please follow Tony's advice today!  Here's how.