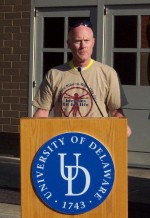 By Mark Deshon, Gail Robillard –

It's certainly been a monumental month of May for the cycling community in the state of Delaware, highlighted by:
*  DART First State's third annual bicycle count in Wlimington
*  The annual Ride of Silence
*  A Bike-to-School event in Lewes
*  Governor Jack Markell's announcement of plans to invest $13 million statewide for cycling trails
*  Concurrent Bike-to-Work Day events in Dover, Lewes, Newark, and Wilmington
*  Great TV coverage on WHYY's "First" and "Newsworks" shows
*  The City of Lewes being named Delaware's second Bicycle-Friendly Community
*  DelDOT Secretary Shailen Bhatt's interview by the League of American Bicyclists (LAB)
*  Delaware breaking into the LAB's top ten list as a Bicycle-Friendly State
The Newark Bicycle Committee (NBC) staged another successful Bike-to-Work Day event in Newark on May 18, in partnership with the University of Delaware and the City of Newark, with an attendance of more than 60 people. There was good publicity leading up to the event, and the weather was ideal.
Though it's now time to relax a bit and enjoy summer riding, we remember that even in the midst of such a successful month, there's still much work to do to help make our state a better environment for bicyclists.