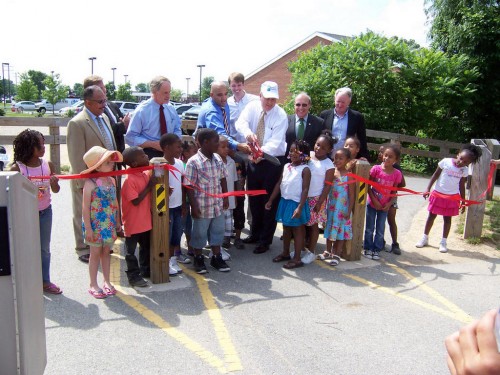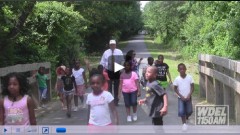 Courtesy of WDEL 1150 AM Wilmington –
Biking and walking between Wilmington's riverfront and New Castle will soon be a lot easier.
A six-mile path through nature will soon connect Wilmington with New Castle.
For now, a two-mile stretch or Phase 1 of the New Castle Industrial Track Greenway Trail is complete.
"Our goal is to launch 'Once Upon a Trail' in some of parks, where children, like yourselves, can walk along the trail, read a book, and also do some exercise," says Clark.
The trail was built by DelDOT with $1 million from the federal government. State Transportation Secretary Shailen Bhatt says you can expect more trails like this one.  [Continue reading, plus video …]  [Related Content …]
Photos taken at the event are below:
RELATED:
• Imagine: Travel Between the Wilmington Riverfront and New Castle Faster By Bicycle Than Car
• Millions for Walking and Bicycling in Delaware.  If We Want It.
• Previous articles on the Wilmington – New Castle Greenway
• Why are we hiding the Industrial Track Rail Trail?
• 1st Ever CMAQ-Funded Bike Project in Delaware History
• Bicyclists mob TAC meeting, win key support for rail trail
• Eight civic and business groups call for completion of Industrial Track