By Cindy & Tom Mannis, WCBC Rides Captains –
Delaware's cycling community and the White Clay Bicycle Club is awesome. 100+ local Delaware area riders joined the East Coast Greenway Cabot Community Tour leg riding from Newark to Wilmington today. We were told that Delaware is the largest local group that showed up to ride a leg with the through riders going from Miami to Maine so far. We overwhelmed the East Coast Greenway thru riders and team with our crowd. Thank you WCBC and friends for coming out to the ride today to show off Delaware's premiere cycling community!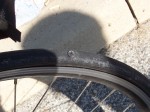 Poster's note:  A number of cyclists had punctures, some immediately upon leaving Wilmapco on Route 72. Among the casualties was Cindy Mannis, who did manage to rejoin the group later, and Angela Cunneely who was "screwed" (right) and forced to abandon the tour altogether. Read about Bike Delaware's campaign to reform DelDOT's sweeping practices HERE.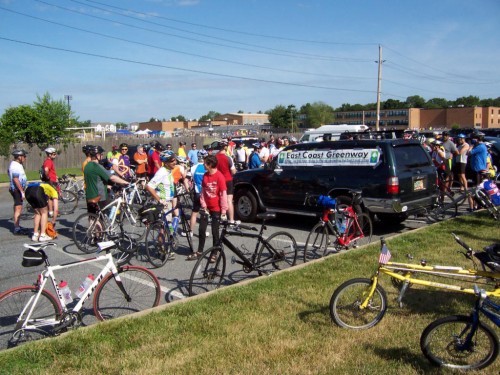 Additional photos by "Jim B" on SmugMug HERE.