by Carol Ireland
President
White Clay Bicycle Club
Tuesday, June 19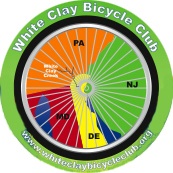 The national focus is on Delaware this Wednesday. The Bond Committee of the General Assembly will be voting on whether to include in the state budget the $13 million Gov. Markell requested for biking and walking programs across the state.
If you can possibly take the time, please come to Dover to show your support for this funding.  Several folks will be driving down from New Castle County, so contact me if you'd like to carpool.
Best regards,
Carol Ireland
President, WCBC
WHAT: Delaware General Assembly committee vote on DelDOT capital budget, including proposal to invest over $10 million in walking and bicycling (see "Item 57" at right).
WHEN: 1PM, Wednesday (June 20)
WHERE: Joint Finance Hearing Room, Ground Floor, Legislative Hall, Dover
Conservative business dress (suit and tie for men; dresses, suits or nice slacks/shirts for women) is appropriate for Legislative Hall.
Email Carol Ireland if you would like help arranging a carpool with other folks going to Dover on Wednesday for this historic vote.
RELATED:
• Millions For Walking And Bicycling In Delaware Are On The Line
• WEDNESDAY: A Meeting for People Who Hate Meetings
• Cape Gazette: "Keep the trail money intact"
• 2011 Bike Friendly Elected Official
• Robert Venables and Jack Markell