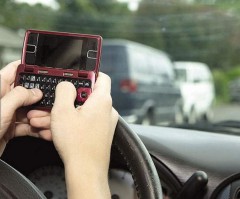 From the New York Times– At a press conference at the Transportation Department's headquarters, [Transportation] Secretary LaHood introduced the Blueprint for Ending Distracted Driving, what he described as a comprehensive strategy to address the safety issue, particularly the growing use of cellphones behind the wheel. Deaths attributable to distracted driving "are 100 percent preventable," he said.
A major component of the blueprint initiative is $2.4 million in federal support for pilot programs in California and Delaware. The effort will be an extension of the department's Phone in One Hand, Ticket in the Other pilot enforcement campaign that began in 2010 in Hartford and Syracuse. That initiative found that increased law enforcement paired with highly visible public service announcements markedly reduced instances of observed cellphone use.
"We know that good laws work and good enforcement works," Secretary LaHood said. Relative to periods observed before and after waves of heightened enforcement, texting dropped 72 percent in Hartford and 32 percent in Syracuse, according to the department.
The California program will take place in eight counties in the Sacramento Valley region, and the Delaware program will be conducted statewide. Both are expected to be under way by fall.  [Continue reading …]  [Related content …]
Poster's note:  The primary goal of this project is to determine if overtime enforcement coupled with paid media will impact the number of persons injured/killed in distracted driving crashes in DE.