According to the National Highway Traffic Safety Administration, 16% of traffic fatalities in Delaware over the last decade have been pedestrians and bicyclists:
Because of Delaware's small size the numbers bounce around from year to year.  The graphs above chart the 3 year moving averages for pedestrian and bicyclist fatalities.
In 2012, Delaware leapt forward in the League of American Bicyclists (LAB) ranking of "Bicycle Friendly States" (from 18th to 10th), one of just two states to do so.  But in its feedback to Delaware, LAB noted that "Delaware is one of the least safe places for bicyclists in the country (based on the number of fatalities and bicyclists). Bicycle safety should be a major emphasis for all projects, programs, and policies to address this issue."
Is Delaware doing something particularly egregious to make it more dangerous for pedestrians and bicyclists than other places in America?  No.  These fatalities are largely a legacy of decades of bad design decisions that prioritize motor vehicle traffic over pedestrian and bicycle traffic.  Delaware has simply followed national practices.
Although DelDOT adopted a formal "Complete Streets" policy in 2009, an informal policy to "accommodate" walking and bicycling has in fact been in effect at DelDOT for over a decade without having any clear effect at reducing pedestrian and bicyclist fatalities. In fact, if anything, the problem seems to have gotten a little worse in recent years.
What is missing (and what DelDOT's "Complete Streets" policy does nothing to address) is direct, targeted and strategic investment to make walking and bicycling safer. Given that the total share of pedestrian and bicyclist fatalities over the last 10 years has been 16%, Bike Delaware believes that approximately 16% of DelDOT's safety spending should be targeted at reducing pedestrian and bicyclist fatalities.
RELATED:
• Delaware Bicycle Friendly State Report Card  
• Delaware Strategic Highway Safety Plan
• DelDOT's "Complete Streets" Policy is a "Routine Accommodation" Policy for Road Projects
• Delaware Jumps Into Top 10 Nationally In Ranking of Bicycle-Friendly States
• Traffic Safety Facts : Bicyclists and Other Cyclists
Excerpts from Transportation for America's "Dangerous by Design" report are below.  Read the full report on T4A's website HERE. Read related comments from Jeff Butcher HERE. Read related comments from Carol Ireland HERE.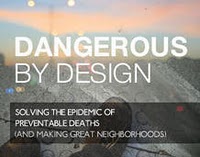 Excerpts from Dangerous by Design from Transportation for America
"In the last 15 years, more than 76,000 Americans have been killed while crossing or walking along a street in their community. More than 43,000 Americans – including 3,906 children under 16 – have been killed this decade alone. This is the equivalent of a jumbo jet going down roughly every month, yet it receives nothing like the kind of attention that would surely follow such a disaster.
"These deaths typically are labeled "accidents," and attributed to error on the part of motorist or pedestrian. In fact, however, an overwhelming proportion share a similar factor: They occurred along roadways that were dangerous by design, streets that were engineered for speeding cars and made little or no provision for people on foot, in wheelchairs or on a bicycle.
"While it is still unnecessarily dangerous for pedestrians to walk, health experts are making the case that it can be just as deadly not to walk. Even as these preventable deaths mount, there has been a growing recognition that walking and bicycling – what many now refer to as "active transportation" – are critical to increasing levels of healthy exercise and reducing obesity and heart disease.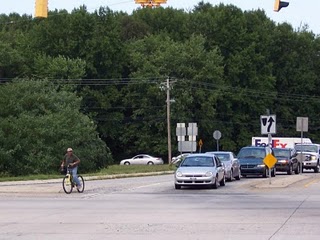 "At the same time, it has become increasingly clear that these clean, human-powered modes of transportation are an essential part of efforts to limit the negative impacts of traffic congestion, oil dependency and climate change."