From the Wilmington News Journal –
A 44-year-old Maryland man has been identified as the victim in the fatal bicycle accident early today along Del. 1 (Coastal Highway) near Rehoboth Beach.
The accident happened at about 2:08 a.m.
[How is vehicular homicide an 'Accident?']
Brian Meegan, 38, of Fort Lauderdale, Fla., was driving a 2003 Jeep Wrangler west on Rehoboth Avenue and was preparing to merge onto Del. 1 north of Rehoboth when he allegedly failed to see bicyclist Russell E. Henman, of Snow Hill, Md., who was in the merge lane in front of him, Master Cpl. Jeffrey Hale, of the Delaware State Police, said in a news release this afternoon.
The front of the Jeep hit the back of Henman's bike, which caused him to be ejected onto the hood of the Jeep, Hale said. Henman was on the hood for about 400 feet before the Jeep hit a curb and stopped and he was thrown onto the roadway, Hale said.
Henman was pronounced dead at the scene, Hale said.  [Continue reading …]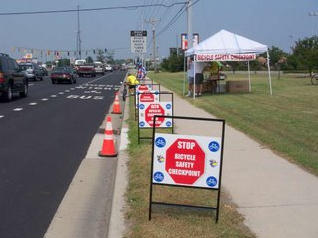 Poster's note:  Route 1 in Rehoboth has a hard won shared bike/bus lane, which is still a compromise at best. Safety checkpoints are conducted regularly, courtesy of DelDOT and the Sussex Cyclists bicycle club. But these are of little help when someone is drunk or intends to hit you. A full history of this facility can be found HERE.