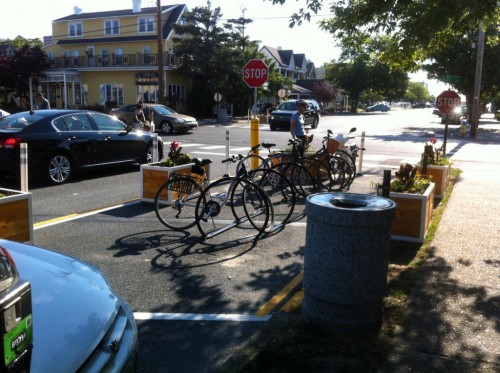 Rehoboth Beach — Improvement or eyesore?
New bike parking stations at Baltimore Avenue and First Street in Rehoboth Beach are supposed to be an improvement, but adjacent business owners are crying foul.
The stations are rectangular, with flower boxes forming a border defining the edges of the parking area.  Richard Scott, owner of J.Conn Scott, said the stations have turned into an awful eyesore that is hurting traffic flow at the busy intersection. Scott said even though a sign says no mopeds, people still park their mopeds there.
He said the station blocks access for people who pick up furniture at the store. J.Conn Scott Manager Lisa Fulton said the number of delivery trucks that use the same area makes the new configuration especially cumbersome. She said when delivery trucks park there, it blocks the street for motorists trying to turn, and they have to maneuver around the trucks to see.
Fulton said she is not against bikes and that a simple bike rack would have been fine.
"The other stuff is overkill," she said.
J.Conn Scott has started a petition to have the bike racks removed. So far, nine signatures have been collected.
On the other hand, Commissioner Mark Hunker, who owns Eden Restaurant and JAM Bistro next to The Wooden Indian, said he's had good response about the stations from patrons.  While scooter parking at the stations has been a problem, Hunker said he thinks the city needs more bike parking stations in centrally located areas.  [Continue reading …]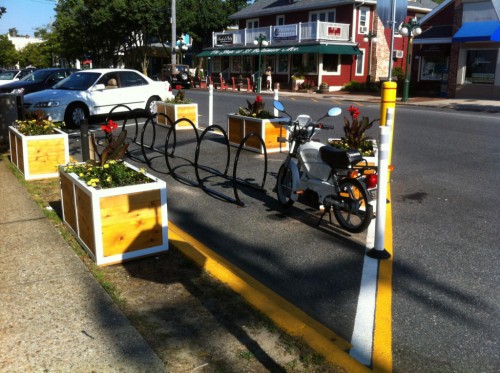 Above: A newly installed bike parking corral, courtesy of Vintage Metalwork of Milford, Delaware. CAVE people (Citizens Against Virtually Everything) claim they are unsightly and obstructive, despite being placed in yellow curb, car-free zones. Hopefully, advocates will galvanize and overcome such opposition, and the merchants will come to appreciate the value on-street bike parking brings.  [Related content …]