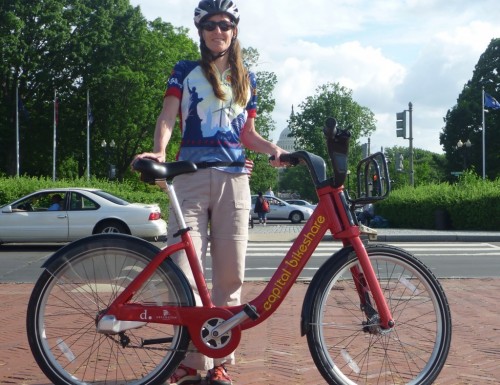 From NJBWC's news digest  | Following the departure of Jim Nicholson, who enthusiastically served as the first Executive Director of the New Jersey Bike & Walk Coalition (NJBWC), the organization is pleased to announce that Cyndi Steiner has been appointed to serve as the new Executive Director.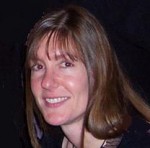 Ms. Steiner hails from several bike clubs and affiliations in New Jersey and New York, including Bike New York, where she is past-president and a long-standing board member. A competitive racing cyclist with Montclair Cyclists, she is a certified Cycling Instructor with the League of American Bicyclists. She teaches for Bike New York and teaches and administers the education program for Bike & Walk Montclair. Ms. Steiner has also been on the board of the Bicycle Touring Club of North Jersey.
With nearly two decades of corporate experience, Ms. Steiner was an assistant director for Ernst & Young LLP before returning to Rutgers, the State University of New Jersey in 2010 to pursue her second master's degree in Environmental Science, Fall 2012. She has an MS in Information Systems Management from Stevens Institute of Technology and her BS is from Cornell University.
Karen Jenkins, outgoing Chair of the Board of Directors welcomed the appointment of Ms. Steiner as an important development in the short history of NJBWC, the only state-wide bike and pedestrian advocacy organization in New Jersey. Ms. Jenkins congratulated Brendan Poh, Board Chair-elect and owner of Cycle Craft in Parsippany and Long Valley for the selection of Ms. Steiner. Mr. Poh stated "NJBWC is excited about the appointment of Cyndi. She brings a unique combination of education and experience to take NJBWC to a new level of advocacy effectiveness in New Jersey and beyond". Mr. Poh also expressed sadness at the departure of Jim Nicholson, his fellow founder of NJBWC and who served as the first executive director. Mr. Poh said "Jim will be missed but his retirement to South Carolina means a sister state will gain a knowledgeable and savvy bike and pedestrian advocate."
Established in 2009, the New Jersey Bike & Walk Coalition is the state-wide advocacy organization for cyclists and pedestrians with members from Ringwood to Cape May.  Ms. Steiner said "NJBWC welcomes clubs, advocacy groups, and local, regional and state agencies to join and work together and is supported by a growing list of sponsors who share the mission. NJBWC is affiliated with the League of American Bicyclists and the Alliance for Biking and Walking and supports their national goals on a state level."   [Continue reading …]
Related: