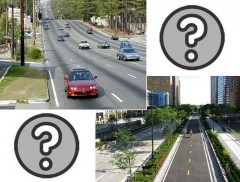 By Frank Warnock  — The State's vote to fund bicycling and walking on a scale never before seen is now public news . On Saturday, July 7, the Wilmington News Journal announced what we already know – that over $13M was appropriated in the capital budget to make walking and bicycling safer. Not only does this include building new dedicated facilities, but also connecting existing ones in order to encourage folks to leave the car home.
So what can we expect will follow? Will there be letters to the editor blasting this move as frivolous or wasteful government spending? At the very least, we could see a flurry of comments and barbs from the uninformed, the myopic, those who believe bicycling is fringe or recreational activity that serves only to obstruct motorists. As those who will be the target of this blowback, it is crucial we write in defense of the enormous benefits that bicycling and walking bring to our quality of life, economy, health, and the environment.
A letter to the editor is one of those things you can contribute if you have little time to spare for advocacy, and we urge you to do so today. Mining for content has never been easier. Without even touching on the above, just the advantage to drivers alone is worth writing about. As Darren Flusche of LAB writes:
"In 2011, total vehicle miles traveled (VMT) in the United States declined 1.2%. Due to the economy and other factors, Americans drove slightly less in 2011 than they did in 2010. But what makes that remarkable is the striking result: Congestion decreased 30%"
So if this investment shifts even 1% of trips to bikes or foot, the benefits will be outstanding even for motorists. How hard will this be? According to the National Household Travel Survey, 25 percent of all trips are made within a mile of the home, 40 percent of all trips are within two miles of the home, and 50 percent of the working population commutes five miles or less to work. Yet more than 82 percent of trips five miles or less are made by personal motor vehicle.
So, in addition to your own experiences, and how biking and walking have enriched your life and that of others, what are some of the best sources for content when composing your letter? Among the most poignant blog posts of 2012 are:
Submit your letter via on-line form to the Wilmington News Journal HERE, or letters@delawareonline.com
Email your letter to the Cape Gazette at: newsroom@capegazette.com or visit HERE.

Once you have completed and submitted your letter, it is most important that you include a full time telephone number with your name. Newspapers need to confirm that the person who wrote the letter is real, so it is important that you are available. Sometimes, if you don't answer the phone, they will email and ask you to call, so please include your email address as well.
On behalf of bicycle advocacy in Delaware, thank you so much!