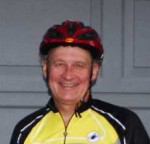 pennlive.com —  Dave Bachman had a goal in life, to bicycle 100,000 miles. He had completed 80,000 miles when he died Saturday at 61 while watching the Tour de France on television.
Now his co-workers at the Pennsylvania Department of Transportation and his son Corey say they are going to finish the last 20,000 miles in his honor.
"He changed the culture of PennDOT … without a lot of fighting," state Rep. Rick Geist R-Altoona said.
Bachman, of Dillsburg, worked as statewide bicycle coordinator for PennDOT for years. Even after his job changed to local safety programs manager, he was often consulted by legislators and engineers about pedestrians and bicycles on roads, said his boss, Tom Glass.
"He was a well-known expert," Glass said. "He was very quiet and humble, but smart and well-spoken. We'll dearly miss him."  [Continue reading …] [Obituary]