For 20 years, from 1992 until 2011, not one dime of federal CMAQ (Congestion Mitigation and Air Quality) program money had ever been spent on a cycling project in Delaware. Last September, however, WILMAPCO voted to program $480,000 of FY2012 federal CMAQ funds for the Wilmington-New Castle Greenway. View the League of American Bicyclists blog post from last September on that breakthrough HERE.
At the time, Bike Delaware said this was a hopeful precedent for the future in Delaware, and Thursday evening that proved to be true when the WILMAPCO Council agreed to drastically reprogram Delaware's FY2012 CMAQ program and add another $6.4 million for "Bike and Pedestrian Improvements Statewide."  That $6.4 million (statewide) is on top of the earlier $480,000 for the Wilmington-New Castle Greenway.
Between 1992 and 2011, Delaware spent 0% of its available federal CMAQ funds on cycling. In 2012, however, bike/ped now is 70% of Delaware's entire CMAQ program.
Change is hard.  But, when it does come, it can be fast. Here is an updated tally of Delaware's state and federal dedicated bike/ped spending program:
FY2012: $13.88 million
= $7 million (FY2012 state authorized) + $6.88 million (FY2012 programmed CMAQ)
=~$15 per capita
FY2013: $14.25 million
= $13.25 million (FY2013 state authorized) + $1.0 million (FY2013 proposed CMAQ)
=~ $15 per capita
Note:  The above numbers do not include any TE, SRTS or RT funds.  For 2012, for example, TE authorization was $4.4 million ($0.9M state + $3.5M TE), but TE here has tended to be used for streetscaping more than bike/ped projects.  In contrast, non-bike/ped projects are ineligible for the state and CMAQ authorizations tallied above.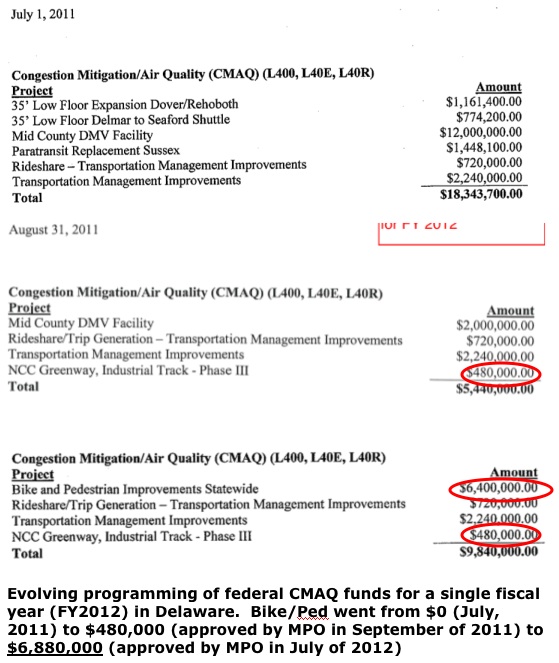 Above:  The evolution of FY2012 CMAQ programming.
RELATED:
• 1st Ever CMAQ-Funded Bike Project in Delaware History
• "There are two favorite words on my list. One is my wife's name, and the other is CMAQ."