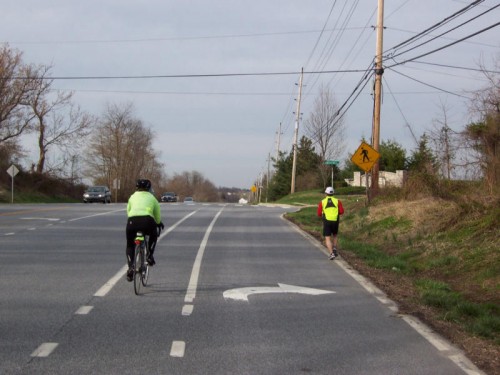 Paper Mill Road in northern New Castle County, with its rolling hills, beautiful scenery, and state of the art bike lanes, is one of the most popular attractions for Newark area bicyclists. Despite what should be a dependably safe road for everyone, the following incident(s) prove just how vulnerable we are, even on roads designed for multi-modal use:
My husband is a bicyclist enthusiast. Last Friday night [7/13] on Paper Mill Road at around 8:00 pm, close to the entrance of Woods of Louviers, a light metallic blue Ford Crown Victoria, DE tag #209275, with three young men(?) kept riding by him and harassing him verbally.  Finally they rode up behind him; he feared that they were trying to hit him with the vehicle.  They did in fact, hit him across the back with something, he's not really sure what it was, that they used to hit him. They were driving at about 30 mph, and the passenger that struck him was hanging out of the car window, almost at his waste. My husband was cycling at about 15 mph. Had he been knocked off of his bike, he would have been injured very badly or worse.
My husband will be going to the police station to file the report that he called into 911 on Friday night, immediately after he was struck in the back.
This is not the first time that he has received this type of malicious and very dangerous treatment while riding his bicycle on Paper Mill Road. There was a recent, previous incident when he was hit by bottle that young men tossed from their car.
He reported that incident as well and the state police did pick up that car load of young men that same evening.
The verbal harassment is one thing and best ignored, but a physical assault is something very different and could potentially be dire.
It seems that in both situations they were youths that appear to live in the area.
Fortunately, in both instances, the tag number was recorded and turned into the police. The question now becomes, will justice be served?

View Larger Map
Paper Mill Road facing north, at the Woods of Louviers in Newark.
RELATED: