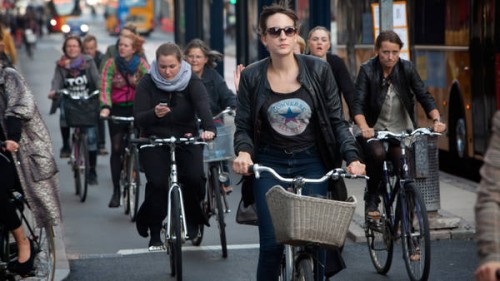 From the New York Times Copenhagen Journal –
Picture 11 miles of smoothly paved bike path meandering through the countryside. Largely uninterrupted by roads or intersections, it passes fields, backyards, chirping birds, a lake, some ducks and, at every mile, an air pump.
For some Danes, this is the morning commute.
Susan Nielsen, a 59-year-old schoolteacher, was one of a handful of people taking advantage of Denmark's first "superhighway" for bicycles on a recent morning, about halfway between Copenhagen and Albertslund, a suburb, which is the highway's endpoint. "I'm very glad because of the better pavement," said Ms. Nielsen, who wore a rain jacket and carried a pair of pants in a backpack to put on after her 40-minute commute.  [Continue reading …]