Note about bicyclists, trails and pathways –


A recent letter to the editor claims that trails and pathways will not encourage commuting by bike. This contradicts studies that have proven the exact opposite. When such facilities are built with connections between cities, towns, neighborhoods and services, non-motorized commute rates do indeed go up.
The Junction Breakwater Trail in Rehoboth and the James F. Hall Trail in Newark are excellent examples of pathway systems that encourage more folks to walk or pedal to work. There are others listed in Delaware's Trails and Pathways plan that make serious connections, and they are not "paths to nowhere."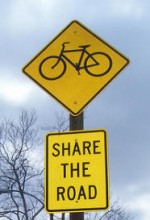 In another letter, it is suggested that bicyclists must assume safety responsibilities. Very true. But everyone who uses the road or path must assume responsibility. From my own experience, as a pedestrian and a cyclist, it is readily apparent how motorists abuse other road users and each other. Motorcyclists, whether they realize it or not, hurt our ears as they blast past us. Pedestrians sometimes spread themselves across the bike path and refuse to move over a bit, even as I ring my bell and wait patiently behind. The News Journal article could have better addressed these concerns, however, "safety responsibilities" apply to all who use the public right-of-way and it is unfair to single out any one user. Motorists, who are the first to condemn anyone that slows them down, stand out due to the enormous toll taken on human/non-human life, the environment and our quality of life.
Angela Cunneely, Newark
Angela is Bike Delaware's Membership Director

[See it in Delaware On-Line's opinion section …]