From delaware.newszap.com
GEORGETOWN – Trailblazing toward better health continues in earnest in Sussex County.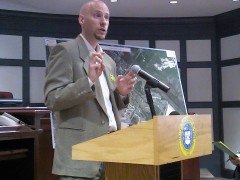 More than $13 million in fiscal year 2013 state bond bill appropriations is earmarked for trail connection and more opportunities for outdoor activity, Walkable/Bikeable Delaware is in motion with General Assembly blessing and the state's biking campaign has earned national advocacy acclaim.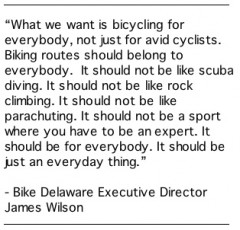 It doesn't end there.
The historic Stockley Center nestled in the heart of Sussex looms as a potential passive outdoor recreation destination, as do a series of at present unconnected trails in the Seaford/Woodland area.
Sussex County Council, Delaware State Parks, downstate medical centers, employers, commerce chambers and numerous community stakeholders are on board in concerted efforts to make a healthier Delaware – the crux of the Sussex Outdoors initiative.
"We've heard about how many children there are that are unhealthy. They don't eat healthy food; they don't get exercise, unlike when we grew up – there were no such things as cell phones and laptops," said County Council President Michael Vincent. "We've got to get this new generation outside. They've got to exercise. They've got to eat better. Because the end result 20 or 30 years from now is going to be something we can't afford to pay for. I don't believe have an option. We have to make this work.  [Continue reading …]