WILMAPCO's Nonmotorized Transportation Working Group presents quite possibly its greatest agenda of 2012. Details as follows:
When: August 7 at 3 pm.
Where: WILMAPCO, 850 Library Ave, Newark (map).
This is a remarkably dynamic and interesting agenda for the Working Group. As always, this meeting is open to the public, and citizen cyclist participation is welcome and appreciated!
————————————————————————————————————————————————————
* * * NMWG MEETING AGENDA FOR AUGUST 7, 2012 * * *
Call to order | Public Comment Period | Presentation/dicussion items
  FY 2013 Delaware Transportation Enhancement Program, Jeff Niezgoda and Richard Sinegar, DelDOT — The Transportation Enhancement Program provides funding for bicycle and pedestrian improvements, as well as other improvements such as those that enhance streets or historic transportation structure.

  FY 2012-15 Transportation Improvement Program Amendments, Heather Dunigan, WILMAPCO—WILMAPCO will update the committee on draft amendments to the WILMAPCO TIP, with an emphasis on bicycle and pedestrian projects.

  Bicycle Facility Design, Michael Jackson, MDOT—MDOT will make presentation on bike facility design from the recent Velo Mondial bike conference in Vancouver, BC..
  MAP-21 (Moving Ahead for Progress in the 21st Century), Heather Dunigan, WILMAPCO—WILMAPCO discuss bicycle and pedestrian funding changes in federal legislation contained in MAP-21.
  Delaware Greenways Update, Jeff Greene, Delaware Greenways—Delaware Greenways will provide an update on their activities.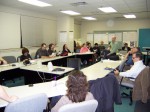 OTHER BUSINESS – Opportunity for committee members to report on recent activities.
Adjournment
Next meeting is scheduled for Tuesday, October 2, 3:00 p.m.