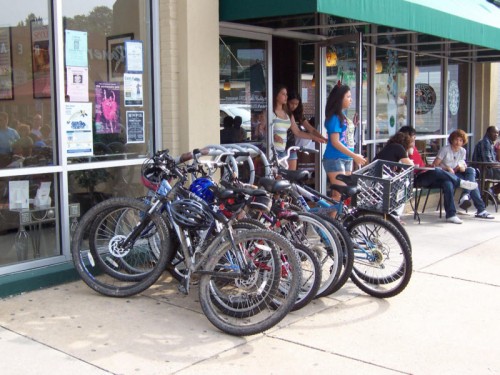 Published in delmarvaNOW.com —
Jul. 27, 2012
Benefits include health, finance and traffic flow
To say bicycles are becoming trendy is an understatement. No longer limited to a means of transportation for children, recreational and fitness uses or people who cannot afford to own and operate a motor vehicle, bikes are increasingly seen as an economical, healthy and environmentally friendly way to get from point A to point B.
Maryland has committed more than $3.6 million to its Bikeways Program in 2012. Salisbury is getting a tiny slice of that funding –$13,750 for use in creating safe bicycle lanes in downtown Salisbury. Another $6,300 goes to Shore Transit to add bike racks to 10 of its buses and to three bus stations serving Somerset, Wicomico and Worcester counties. And Wicomico County has begun to explore the possibility of making more of the county bicycle-friendly as well.
The trend is positive on many levels. It allows people to combine physical activity with practical purposes such as nearby errands or commuting to and from work, in addition to recreational riding.
Each bicycle trip that serves a useful purpose translates to one less motor vehicle on the road. Cumulatively, this correlates to less wear and tear on roads and other infrastructure, less traffic congestion on some roads, less gasoline consumed and lower levels of emissions in the air. Over time, individuals using bicycles on a fairly regular basis to go places to which they otherwise would have driven a motor vehicle become more physically fit and healthier, which could lead to a reduced need for medical interventions and medications. That means whatever money the individuals might have spent on health care services remains available for discretionary spending. That can be thousands of dollars a year per household, enough to make an impact that's sustainable as long as the activity level is maintained.  [Continued …]