Featured in The Atlantic Cities, Place Matters –
America is facing an alarming epidemic. In 1960, fewer than one in 10 American children were overweight or obese, but today, that number is one in four. Formerly very rare (and very serious) childhood diseases like Type 2 diabetes have become increasingly common.
It's not just kids who are being affected: a quarter of adults are now obese, way up from one in 10 in 1990. That's contributing to soaring health costs – over $190 billion a year, or 20 percent of all health care spending, according to a recent Cornell University study.
What's the cause? Some analysts point to the growing consumption of junk food and sedentary lifestyles, and they're certainly right. But there's also evidence of a close correspondence between obesity and unwalkable, car-dependent neighborhoods. People in these neighborhoods are likely to be more sedentary, heavier and less fit, a deadly combination that begins when we are young.
For those over 40, a little experiment is telling. In our talks, we often ask our audiences how many of them walked or biked to school. Most hands usually go up. Then we ask them how many of their kids, grandkids or friends' kids now walk or bike to school. Almost no hands go up. We have wrought a huge change in the lifestyles of our children, one that is taking a tragic toll. We chose to do it when we created unwalkable (and unbikable) suburban environments. No wonder our kids stay indoors, or worse, get lured into a drive-through lifestyle, with rafts of fast food and little activity.  Continued>>>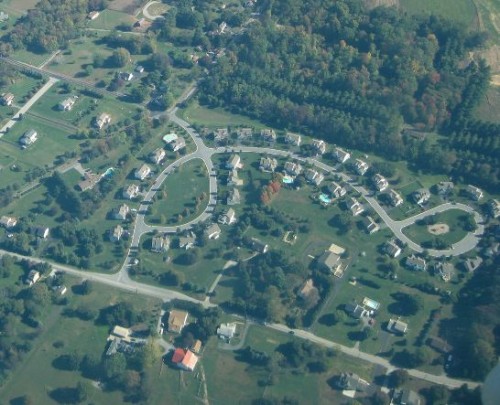 A typical picture flying above in central and southern Delaware. Sprawl of this nature continues unabated, often without sidewalks and connections to adjacent neighborhoods and services. (photo courtesy of Angela Cunneely)
RELATED: