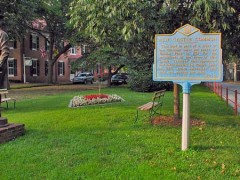 From Our Friends at Delaware Greenways –
We have a historic and once-in-a-lifetime opportunity to establish a National Park in Delaware. But it won't happen without your support.
The Mt. Cuba Center and the Conservation Fund have worked with the Woodlawn Trustees to purchase and preserve for all time, 1,100 acres of the most beautiful land along the Brandywine Creek in northern New Castle County, DE and in Chester County, PA. Also included are historic sites throughout Delaware, such as Old Swedes Church, the John Dickinson House, the New Castle Courthouse and the Ryves Holt House. We truly have an amazing opportunity to protect one of the largest undeveloped properties along the Brandywine and celebrate a number of national treasures in our own backyard.
Senator Tom Carper has introduced legislation to accomplish this designation. The next critical step is to tell our Senators and Representatives that you are supporting what will be our state's only National Park. With one click you can send a letter to Delaware's members of Congress letting them know you support this historic effort! Please take just a minute to help by clicking the above link and following the instructions.
lf so, plan to attend the Tuesday, Aug. 28 public meeting hosted by the Congressional Delegation for a discussion on the First State National Historical Park and the Woodlawn Trustees property. This clearly has bicycling implications in keeping a large swath of Delaware green and free from suburban sprawl, but at the same time, increasing the number of visitors by car.
Tuesday, August 28, 2012 at 6:30 p.m.
Alexis I. du Pont High School Auditorium, 50 Hillside Road, Greenville, DE
Related: