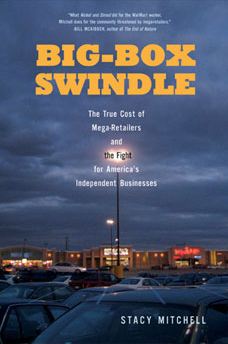 If you haven't already read this book, prepare yourself for a surgical dissection of big box America, and its devastating effect on our land use, environment, and quality of life (Never mind trying to get there on foot or by bike.)
In less than two decades, large retail chains have become the most powerful corporations in America. In this deft and revealing book, Stacy Mitchell illustrates how mega-retailers are fueling many of our most pressing problems, from the shrinking middle class, a government subsidized car culture, rising pollution, and diminished civic engagement – and she shows how a growing number of communities and independent businesses are effectively fighting back.  [Visit the book website …]
Excerpts:
"It's not just the design of buildings and the parking lots but, more fundamentally, the nature of the shopping experience that necessitates driving. Picking up a few things after work every day – which is fast and easy if you have a few good small stores in the neighborhood – is not at all convenient when you have to navigate a superstore the size of several football fields and then wait in line behind families buying a week's worth of supplies. Superstores encourage people to do big shopping trips, stocking up once or twice per week, and that requires having a car to get everything home. This is why efforts to reduce driving by building superstores along light rail lines or adding pathways or other pedestrian amenities to their parking lots are doomed. Even regular walkers and public transit users are unlikely to visit a big box store without their cars, because that is what the shopping format demands."
"After a field or forest is converted into a big-box store, rainwater that would normally soak into the ground instead washes into torrents across the parking lot and driveways. As it does, it becomes warmer and picks up a nasty stew of toxic pollutants, including phosphorous, nitrogen, road salt, sediments, hydrocarbons from motor oils and fuels, heavy metals, pesticides, and herbicides. When this runoff flows into a nearby river, it not only delivers a load of pollutants, it raises the river's temperature, which harms fish like trout and changes the river's hydrology. Because the ground can no longer act as a sponge – soaking up water during storms and releasing it slowly during dry spells – the river will run very high when it rains, destroying stream bank vegetation and crucial spawning habitat, and very low at other times, further stressing plants and fish."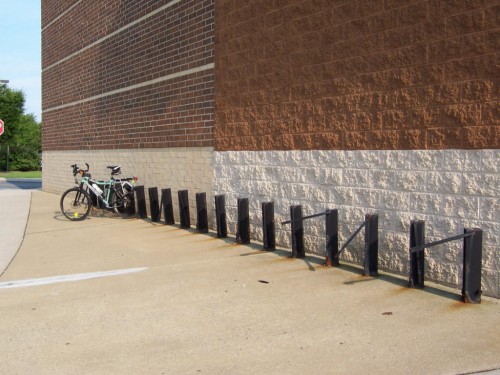 Above:  As per the Route 40 Corridor Improvement Plan, big box retailer KOHLS provides bike parking for nearly 20 bikes. However, evidence was slim that they see much (if any) use. Furthermore, being located around the side of the box puts them out of sight and out of mind. Even if there were bikes present, this location would embolden thieves who know they have little chance of being seen in public.