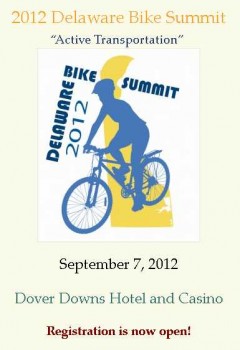 If you haven't registered yet, time is running out!
The 2011 summit showed everyone the power of bringing together people with a passion for biking. In 2012 we're offering the chance to learn about a broad array biking topics.
Sessions will include Federal Funding and Legislative Updates; Youth and Cycling; Bicycle Friendly Businesses; and Equity and Social Justice. We'll learn how the First State Trails and Pathway Plan has progressed over the past year and how the the Dover Bike Plan is being put into action. We'll even help Dover to become designated as a bicycle friendly community during a workshop on how to apply.
Activities for both Friday and Saturday are listed below:
Registration and continental breakfast will begin at 8:30 a.m. The main summit program will begin at 9 a.m.
Stay the night at Dover Downs Hotel and Casino either Thursday or Friday night and get $25 in free slot play for first time Capital Club members. Just use the code GDEBIKE during registration.  Room rates are $135 for Thursday and $195 for Friday night.
Stay for the Amish Country Tour and join more than 1,750 cyclists for one of Delaware's longest running and most popular cycling events. Tour benefits five community organizations including Central Delaware YMCA.  To register, visit www.AmishCountryBikeTour.com or call 800-233-5368.
Ride the Monster Mile.  DelDOT Secretary Shailen Bhatt will lead summit attendees in a victory lap around the Monster Mile racetrack to celebrate the many biking-related successes in Delaware. You must bring your own bike (secure bike parking will be provided) and $7 cash (exact change only) to participate.
Secure Bike Parking will be provided near Gate 7 on the south side of the racetrack.  Please note that after 9 a.m., bike parking will be locked and bikes can not be accessed until 3 p.m.  Those wishing to park their bikes after the ride can park them on the north side of the hotel in a unsecured rack.
Reception at Frankie's.  Continue the celebration at Frankie's with a discount for summit attendees starting at 5 p.m.
See you at the Summit!  We have an excellent lineup of local and national speakers.  To view the bike summit agenda, please visit: