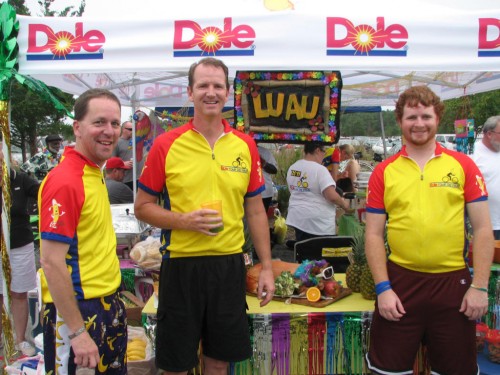 Register for a Spot in the Finish Line "Team Village" by September 7th
This year, team registrations are booming for the Bike to the Bay with over 135 teams already registered –more than last year's total number of teams with 2 weeks until the ride!
The Delaware MS Society encourages both corporate and family teams to register for Bike to the Bay, on September 22nd and 23rd. Participating as a team offers a great opportunity for companies to increase their visibility, demonstrate corporate responsibility, and build camaraderie among employees. Plus, it's a fun time for family and friends to come together to celebrate their accomplishments in the fight against MS.
Team Village Information – There is still time to secure a spot in the team village!
Bike to the Bay teams train together, fundraise together, ride together – and celebrate at the finish together, too! All you need is a space to put up your team tent in this year's Bike to the Bay team village (at the finish line). Tent spaces are limited and will be provided on a first come, first served basis.
The deadline to secure your space is Friday, September 7th. If you are interested in a spot in the Team Village please call Linda Risk, Teams Coordinator, at (302) 655-6510 or email Linda.Risk@nmss.org.
About Bike to the Bay
Bike MS: Bike to the Bay, is just around the corner on September 22nd and 23rd. Each year Bike to the Bay attracts more than 1,800 participants, of all skill levels, who come to enjoy the personal accomplishment and camaraderie of the ride, and support Delawareans with multiple sclerosis. This year, Bike to the Bay still covers 150 miles in Kent and Sussex counties, and cyclists have a choice of six routes – 17, 45, 75, 100, 150, & 175 miles – depending on how much of a challenge they wish to tackle. Additionally, this year's finish line has been relocated to The Towers at Seashore State Park just a mile south of Dewey Beach, where there will be plenty of parking, bath houses, support, and finish line festivities for cyclists. Find additional information and resources at www.biketothebay.org.