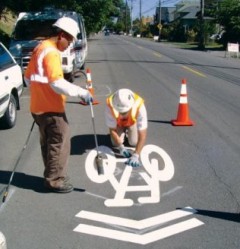 By Frank Warnock –
At this time, DelDOT remains opposed to installing sharrows on roads without parallel parking, and are hopeful the bicycling community in Delaware will accept the following reasons for their position.
View the official memorandum in pdf HERE.
They reviewed all of the research studies that were used to help develop and justify the inclusion of the sharrow in the MUTCD, as well as some research studies that were performed more recently (all that they could find).  Nearly all of of the research was completed in downtown locations with on-street parking. The primary measured benefit of the Sharrow is reducing the "dooring" issue between bicyclists and parked vehicles. Despite the allowable 35 mph posted speed limit in some applications, they are unable to find any research related to sharrows on suburban corridors without on-street parking.
DelDOT's position at this time is that they will consider the installation of sharrows primarily in downtown areas with on-street parking. After Delaware bicyclists and drivers have time to get used to these installations and after P.R. efforts take hold, they will reconsider other application types.
Above:  A video showing the danger of riding in the door zone. Sharrows direct bicyclists further out in the lane of traffic, putting them at a safer distance from opening car doors.